Smart Irrigation
Intelligent Technology + Environmental Responsibility = A Well-Nourished Landscape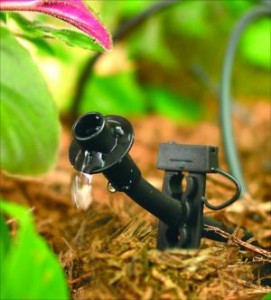 California's history of drought and depleting water resources have prompted strict restrictions on outdoor water usage as well as rate hikes.
Here are some interesting facts about our current drought versus the one from 1986-92:
Significant restrictions on Delta operations are in place today. Court-ordered restrictions to protect species in the Sacramento River Delta reduced supplies by at least 30% in 2008.
Much of the easy conservation has been done. Plumbing retrofits and metering have reduced per capita water use in recent years. While there is still great potential for more conservation, particularly in the area of outdoor water use, it takes additional effort and investment to get there.
California's share of Colorado River supplies has been permanently reduced. During the last drought, California was still able to rely on surplus Colorado River supplies totaling about 800,000 acre-feet per year. Now, the state is limited to its legal entitlement of 4.4 million acre-feet. The additional water shielded Southern California from much of the impact of the 1986-92 drought.
Reservoir storage is already low. Reservoir storage was relatively good during the first few years of the 1986-'92 drought. A dry 2007=2009 resulted in low levels in the state's key reservoirs.
A dry 2012 could mean dire straits. As water districts across the state continued to draw down reserves in late 2000s, many worried about the effects another dry year would have on operations.
It's a grave situation but Scarlett's Landscape Inc. installs smart watering technology to boost your conservation efforts. Contact us for a free estimate in Ventura County and Santa Barbara County.
Time To Get Smart, Irrigation That Is
The urgent need for conservation has property owners searching for new irrigation technology that uses minimal amounts of water to keep landscapes vibrant.
Scarlett's Landscape Inc., CA uses smart irrigation techniques to maintain healthy lawns and promote water conservation.
Whether it's new landscape design or landscaping maintenance, home owners in Ventura County and Santa Barbara can count on our water wise irrigation systems and sprinklers to reduce their consumption dramatically.
How do our smart watering systems reduce your usage?
High-efficiency sprinklers: Your average half-circle sprinkler nozzle puts out 1.3 gallons per minute with only 65% efficiency. This means almost a half gallon a minute is wasted in misting and overspray. Also, most lawns and planters are not exactly level so the nozzles' high flow rate causes runoff (wastage) to happen fairly quickly.
We install high-efficiency sprinklers like the Hunter's MP Rotator which has a flow rate of only 0.37 gallons per minute and an efficiency of 80-90%. The low flow rate virtually eliminates runoff. In addition, its multi-trajectory, revolving streams have better wind resistance for less misting and wastage. Since our sprinkler systems have a radius of 8′-30′ they can be used for all types of terrain including lawns and hillsides. Talk to us about installing an MP Rotator for your landscaping in Oxnard, Camarillo, Ojai or Santa Barbara.
Intelligent controllers: Most people have their sprinkler controller on the same setting throughout the growing season. Rain or shine, hot or cold it uses the same amount of water. An avid landscaper may actually make changes to it more than once but that's not always enough.
Our Rainbird ESP-SMT Smart Controller combines your specific data along with weather information for more intelligent water usage. It allows you to input all of your specific site data like sprinkler type, soil type, plant type, sun exposure, slope degree and planting density. Then it combines this with information from its attached onsite weather station (the size of a softball) and creates a water schedule specifically for your yard.
Have a party coming up next year? Input the date and it won't water. Don't like to water on weekends? Let it know and it'll take that time off. Now, how's that for Smart Watering? Use our intelligent controller to manage your irrigation and meet Southern California water restrictions.
Drip irrigation for more direct application: Advanced watering techniques like drip irrigation involve a more direct application of water to the plant roots and prevent wastage from runoffs. The drip system works especially well for small planters. However, you must use a pressure regulator and high quality materials to avoid maintenance and repair issues. Scarlett's Landscape Inc. installs only top quality irrigation and sprinkler systems that support water conservation. Schedule a meeting to determine if drip irrigation will work for you.
Top dressing for moisture control: Using a top dressing in your planter will minimize the effects of temperature fluctuations as well as prevent dry outs. We recommend nitrolized, recycled wood mulch like Agromin's ES-2. It keeps the moisture in the soil, provides an attractive cover and discourages weeds.
Ask us to maintain your landscape. For over 30 years property owners in Ventura County and Santa Barbara have counted on our exceptional landscaping and irrigation services for great looking lawns and gardens.
Scarlett's Landscape Inc. has the knowledge and experience to help you maintain a beautiful landscape while doing your part to conserve water and lower your water bill.
Call us. Our smart watering techniques take the stress off meeting water restrictions.