If you dream it, we can build it.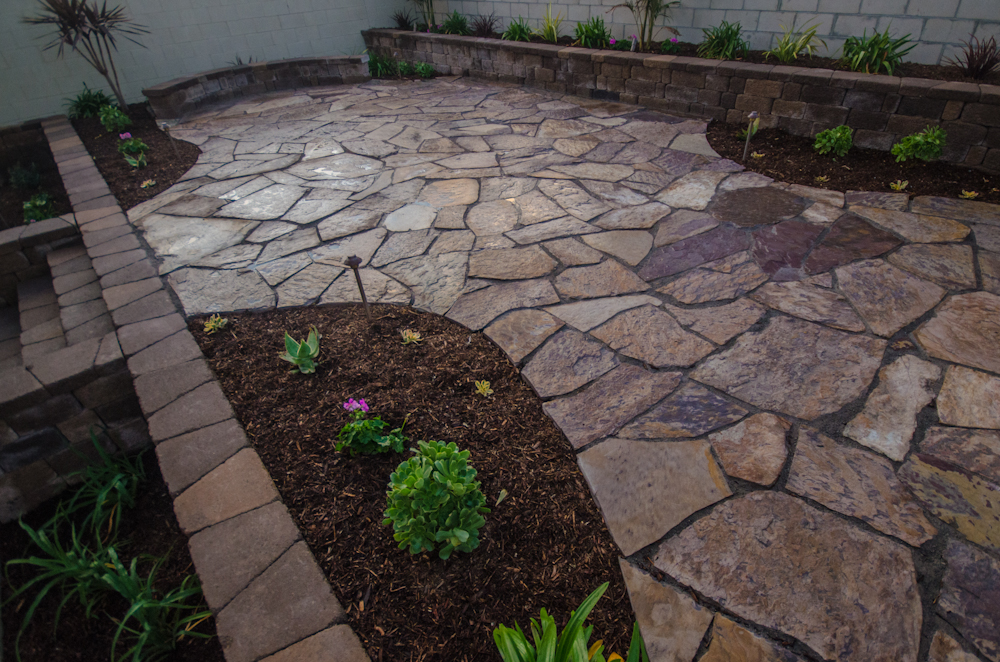 Hardscape is often times the most critical aspect in the construction of our landscape projects as it is the base point for all other portions of the landscape to work from it. Best success in a landscape space is perceived when proper scale and balance is maintained between Hardscape (constructed material) and Softscape (plant material). Whether it is flatwork or other hardscape elements, Scarlett's Landscape has the knowledge and expertise to complete these aspects for your project.
Hardscape comes in a multitude of construction material choices dealing with color and texture.
Flatwork- encompasses all horizontal surfaces whether you're re-facing existing faded/cracked concrete as an "overlay" treatment of poured concrete, or replaced as a desired new surface. Below discusses many types of materials as Hardscape;
Interlocking Pavers- extremely popular now as there are a large variety in colors, textures, and patterns to use as in walks, drives, patios, and steps. A great alternative to traditional concrete as they will never crack or fade. A big plus for those who are keen on letting the water percolate through the material and into the ground with less on site water run-off.
Concrete- a multitude of colors and textures by themselves or used in combinations to fit with the theme you're going for. Colors in the range of tans to greys are most popular in that they are neutral enough to work with any theme. Stamped patterns can texture the concrete to add an enhanced detail. Or maybe you want a simple broom or sand finish to complement any theme.
Stone- we can apply any stone in a patterned layout as a focal point or as in a perimeter banding layout. Whether it is flagstone, travertine, slate, or other stone material we can install it to fit with the proper theme. Also great to use as a veneer over vertical surface application.
Brick- a great material to use if it's the traditional colonial theme you're aspiring. Great for use as a cap on seat walls, walls, pilasters, and in a pattern inset in concrete and/or as a consecutive order of banding. Also great to use as a veneer over vertical surface application.
Decomposed Granite, Gravel, etc. – If it's a more natural and rustic surface you are looking for, compacted decomposed granite or decorative gravel is a great way to achieve this. They are available in a wide variety of colors and sizes.
Other Construction techniques – Don't let your pre-conceptions hold you back! Our in house landscape architectural service is here to help with creative ideas you may never have considered. They can help you imagine turning that side yard lawn into a covered outdoor room, or take that small concrete patio and expand it into a new large paver patio with an outdoor kitchen, fire pit, and wall fountain. Sometimes it just takes some fresh ideas and a new perspective to get inspiration.
Using these techniques and materials you can truly unleash your outdoor living space's potential.  Whether as focal points or subtle accent pieces, hardscape can truly recreate your yard. If you already have a vision let us help you bring it to life. If you need help, our Landscape Architecture team will work with you and put together a striking hardscape design with textures and colors that compliment your property and make it stand out.
We make hardscaping easy.  All you need to do is call.
Contact Scarlett's Landscape today to arrange an appointment to discuss your vision.