We can't wait to bring your outdoor vision to life.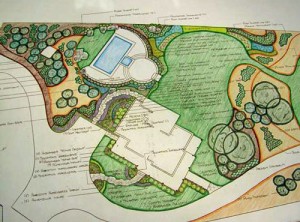 A stunning landscape design celebrates nature and reflects your style!  An arresting landscape is the neighbors' envy and owner's pride. It adds charm to every outdoor celebration and offers a natural retreat for relaxation. Well-designed landscaping also increases property value.
However, creating the perfect garden requires extensive design experience and knowledge of plants that will thrive in California's climate. It also needs the ability to create beautiful hardscapes that will make a striking statement.
Why depend on Scarlett's Landscape Architecture Services?
Creative design: Landscape Architecture is defined as the art and practice of designing the outdoor environment. Our design team is comprised of a licensed landscape architect and design associate, both with degrees in landscape architecture from Cal Poly Pomona and over 20 years practicing experience. We specialize in commercial and residential hardscaping, planting, irrigation, and grading design. We can take you ideas and translate them into conceptual and working construction drawings. Landscape Architecture takes your design to another level and is all about a harmony of form, texture, color, shape and rhythm. An eye-catching landscape is rarely the result of a DIY (do-it-yourself) experiment. While it is an expression of creativity, it does need professional expertise for meticulous installations and regular maintenance. Scarletts' talented landscape architecture team uses innovative ideas and creative shapes to bring about natural works of art. Our stunning hardscapes (like flagstone patios and cedar decks) and soothing water features add depth and dimension to your landscaping. Schedule a design consultation today. We can create your very own masterpiece for you to enjoy.
Extensive choice of plants, shrubs and trees: In depth knowledge and experience with Ventura County, Santa Barbara, and Los Angeles Area terrain and climate conditions together with Scarletts' extensive range of flora and fauna enables us to give shape to your dreams. Ornamental shrubs, exotic plants, choicest trees and flowers add texture, form and color to your landscaping in Ojai, Oxnard or Camarillo. Just tell us which ones are your favorites or let our experienced staff guide your choices for a gorgeous outdoors that provides year round curb appeal.
Seamless execution: Seamless execution of landscape design is the highlight of our service. Our staff works painstakingly to create an attractive outdoor space and ensure your absolute satisfaction. Meticulous installations, top quality products and the latest equipment help us complete your landscaping projects on time and within budget. Plus we're bonded, licensed and insured to guarantee the safety of our staff and clients. Get-in-touch to learn more about what our landscaping company can do for you.
LEARN MORE ABOUT THE IMPORTANCE OF LANDSCAPE ARCHITECTURE
Scarlett's Landscape, Inc. has the design expertise to create that dreamscape you've always wanted. More importantly, our landscape designs support water conservation. Property owners in California, including Ventura, Oxnard, Camarillo, Ojai and Santa Barbara will vouch that our innovative ideas, superior products and detailed service have always yielded stunning results for them.
Call us now for innovative landscape architectural concepts and design ideas that will take your outdoor space to the next level.